Welcome to Omega Hills Farm!
Omega Hills Farm is a small family run farm located just outside Columbus MS.  Our farm is nestled on 16 acres on top of a hill at the end of Omega Drive.  Hence, the name Omega Hills Farm.   Three generations help in raising our livestock and crops.  This allows us to mix farming skills and knowledge of years gone by with today's latest technology.
We have spent the last decade providing the highest quality eggs, chickens, and vegetables to people in our local area and now we are offering them to the rest of the country online.
In 2012 we introduced a few rare breeds of chickens to our farm and were excited to see the flocks thrive. What started off with just a few rare breeds of chickens, has grown to over 20 varieties. With all these new additions it will be quite busy on the farm for the foreseeable future.
Featured Post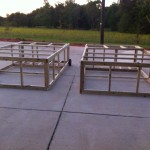 Here is a picture of the two newest tractor frames on the farm. While we still have some traditional coops, we are transitioning to mobile tractors. It does require more daily work due to the fact the chickens are in a different place every day and Read More
Join our mailing list
Get Updates and Special Deals by Joining our Mailing List!